Copyright Litigation Over Tattoo Designs is on the Rise in New York and Elsewhere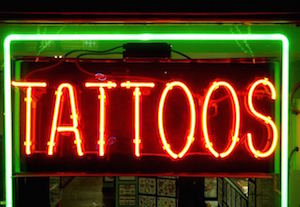 Copyright is a legal term used to describe the right to control the use of an original work such as a movie, book, or piece of artwork that was created or is owned by an individual or company. Increasingly, copyright disputes are arising across the nation over tattoo designs. In 2011, the artist who created boxing champion Mike Tyson's facial tattoo settled a copyright infringement lawsuit against Warner Brothers Studios. According to a complaint filed in a Missouri federal court, S. Victor Whitmill owns and previously registered the tattoo design that is permanently inked on Tyson's face. Whitmill claims the studio used an identical design on an actor in the movie The Hangover Part 2 without first obtaining his permission or providing him with compensation.
Although Judge Catherine D. Perry stated a tattoo may be copyrighted, she refused to grant Whitmill's request for an injunction to block the release of the movie because the financial effect of doing so could harm non-parties to the litigation. According to Warner Brothers, the tattoo was mere parody and subject to the fair use exception in the United States Copy Right Act. Judge Perry reportedly disagreed. After she stated Whitmill had a strong likelihood of prevailing against the movie studio, the case settled out of court following mediation. After its release, the movie grossed more than $500 million.
Since that case settled, a tattoo artist reportedly sued video game maker THQ Inc. for creating a game character, complete with identical tattoo, which resembles a mixed-martial-arts athlete. Additionally, the National Football League Players Association apparently issued a warning to players to seek copyright waivers for any tattoos that may be displayed on television or using other forms of media. Some attorneys purportedly think signing a copyright waiver will become a prerequisite to obtaining a tattoo in the future. Despite the apparent rise in litigation over tattoo rights, however, Saint Louis University School of Law Professor Yvette Liebesman believes all tattoo artists provide their subjects with an implied license.
If you are facing a copyright or other intellectual property dispute, do not hesitate to contact the knowledgeable New York City intellectual property attorneys at Korngut Paleudis LLC. The caring lawyers at Korngut Paleudis LLC have more than 45 years of experience helping clients who are located in New York, New Jersey, and Connecticut. To speak with a hardworking advocate about your intellectual property or other business law claim, please contact Korngut Paleudis LLC through the law firm's website or give us a call at (212) 949-0138 in New York City, (914) 220-8270 in White Plains, or (203) 355-3635 in Stamford, Connecticut.
More Articles:
Manhattan Federal Court Holds Google Book Digitization Project is Fair Use Under the U.S. Copyright Act, New York City Business Litigation Lawyer Blog, December 27, 2013
Sports Photographers File New York Copyright Infringement Lawsuit Against the NFL and Others, New York City Business Litigation Lawyer Blog, December 20, 2013
Additional Resources:
Judge Rules 'Hangover II' May Be Released, Despite Copyright Dispute over Tattoo, by Debra Cassens Weiss, ABA Journal
Tattoo artists are asserting their copyright claims, by Lauren Etter, ABA Journal
Photo credit: krosseel, morgueFile