Courts Reach Varying Conclusions in "BitTorrent Swarm" Copyright Infringement Lawsuits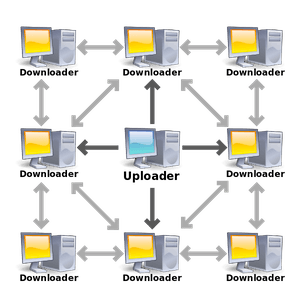 Internet and computer technology always seems to be one or more steps ahead of our system of protecting and enforcing copyrights. Various websites and online file-sharing services enable people to download and exchange copyrighted materials, including movies, television programs, and music. BitTorrent, one of the most common systems now in use for online file sharing, enables large groups of users, known as a "swarm," to download a file at the same time. The nature of the BitTorrent system makes identifying individual downloaders difficult, resulting in lawsuits against anonymous "Doe" defendants. Copyright owners have sought to include dozens or hundreds of Doe defendants in a single suit, arguing that they are all liable as members of the "swarm." Courts have reached different conclusions on this theory.
BitTorrent allows a "swarm" of users to upload and download parts of a popular file. Files are exchanged in multiple pieces, and as one user downloads a single piece of the file, it becomes available to other downloaders. As the demand for a particular file increases, the number of possible download sources therefore also increases, relieving the network pressure on the original uploader's machine and preventing excessive network pressure over a larger area. Identifying an individual downloader can be very difficult, so copyright infringement lawsuits often name "Doe" defendants based solely on an internet protocol (IP) address, the number that identifies an individual computer.
Decisions in two lawsuits brought by a German adult video producer, claiming illegal downloads of their videos through BitTorrent, reached almost opposite conclusions on the question of "swarm liability." In Purzel Video GmbH v. Does 1-84 , No. 13 C 2501, mem. op. (N.D. Ill., Aug. 16, 2013), several Doe defendants filed motions to sever the individual Does from the suit. They argued that permissive joinder of all eighty-four defendants was improper under Federal Rule of Civil Procedure 20(a)(2), because they were not all engaged in "the same transaction…or series of transactions," and they do not share common questions of law or fact. The court denied the motions, finding that their participation in a "swarm" constituted a series of related transactions, and that the plaintiff's legal and factual claims against the defendants were sufficiently similar to one another.
A Missouri federal court reached a very different conclusion in Purzel Video GmbH v. Does 1-91 , mem. (E.D. Mo., Sep. 6, 2013). A judge severed some of the Doe defendants sua sponte under Federal Rule of Civil Procedure 21. Citing a California district court decision, the judge held that the mere fact that all of the defendants participated in a BitTorrent swarm did not prove that they were part of the same or similar transactions, since it was impossible to know if the defendants actually exchanged any file pieces with one another, instead of the thousands of other users in the swarm.
If you are facing a copyright or other intellectual property dispute, the business and commercial attorneys at Korngut Paleudis LLC can help you understand your rights and prepare your case. We have represented clients in New York, New Jersey, and Connecticut for more than 45 years. To speak with a knowledgeable advocate regarding your intellectual property or other business law claim, please contact us today through our website or at (212) 949-0138 in New York City, (914) 220-8270 in White Plains, or (203) 355-3635 in Stamford, Connecticut.
More Articles:
Posting Photos to Twitter Did Not Create Licenses for Third Parties, Court Rules in Copyright Infringement Case Awarding $1.2 Million to Photographer, New York Business Litigation Lawyer Blog, January 10, 2014
Copyright Litigation Over Tattoo Designs is on the Rise in New York and Elsewhere, New York Business Litigation Lawyer Blog, January 3, 2014
Manhattan Federal Court Holds Google Book Digitization Project is Fair Use Under the U.S. Copyright Act, New York Business Litigation Lawyer Blog, December 27, 2013
Photo credit: By Scott Martin (Own work) [CC-BY-SA-3.0], via Wikimedia Commons.