Empire Brewery Lets Lucasfilm Feel Its Force During Trademark Dispute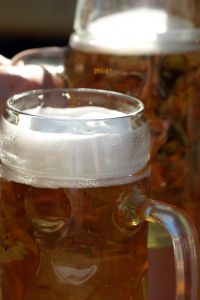 What's in a name? Shakespeare believed that a rose by any other name would still smell as sweet. It appears that Empire Brewery does not agree when it comes to its Maibock lager named "Strikes Bock." The Syracuse-based brewery is engaged in a trademark battle with media giant Lucasfilm Entertainment Company Ltd. LLC ("Lucasfilm") over its opposition to Empire Brewery's use of the name "Empire Strikes Bock."
In early 2014, Empire Brewery filed a trademark application with the United States Patent and Trademark Office ("USPTO") to gain federal trademark protection of the "Empire Strikes Bock" trademark the brewery uses in association with its "Strikes Bock" beer. As the brewery plans to expand and bottle its own beer in 2015, Empire Brewery applied for federal trademark protection of some of its most popular brews; "Strikes Bock" being one of them. The USPTO raised no objection to registering the "Empire Strikes Bock" mark and published the mark for opposition, which is a thirty day time period during which the holders of federally registered trademarks can state their objection to the approval of a pending trademark application. On the last day of this thirty-day opposition period, Lucasfilm, owned by Disney and producer of the Star Wars film franchise, filed for an extension of time to raise its objection to the "Empire Strikes Bock" mark. On October 15, 2014, Lucasfilm filed its formal opposition to the mark with the USPTO.
Simply stated, Lucasfilm has two main issues with the "Empire Strikes Bock" mark. First, it argues that the mark is too similar to Lucasfilm's "The Empire Strikes Back," the title of the second film in the Star Wars series, which remains popular today through the release of digital reproductions of the 1980 film on multimedia formats and through the licensed merchandise from books to toys to apparel to other goods bearing the name of the film. Lucasfilm uses the "likelihood of confusion" standard for trademark infringement to argue that a consumer who sees Empire Brewery's "Empire Strikes Bock" mark will immediately think the goods are produced by or associated with Lucasfilm and "The Empire Strikes Back."
Second, Lucasfilm contends that consumers will associate Empire's "Strikes Bock" beer with Lucasfilm's own Skywalker wine produced at Skywalker Vineyards located on the Skywalker Ranch. This second argument may carry more weight, even though the names, "Empire Strikes Bock" and "Skywalker" are clearly different, because the goods, namely beer and wine, which the marks protect, are both alcoholic beverages which exist in the same category of goods in the same channel of commerce. Lucasfilm fears that because it is the producer of wine bearing the Skywalker moniker, which is another reference to the Star Wars film series, one might also think that it is the brewer of the "Strikes Bock" beer.
So far Empire Brewery has not cowered before the larger entity and has used its force in challenging Lucasfilm's assertions that Empire Brewery's "Empire Strikes Bock" mark should not be granted federal protection. However, legal matters can be costly and there is no doubt that Empire Brewery has incurred a substantial expense by thoroughly presenting its case in front of the USPTO; and, ultimately, there is no guarantee that Empire Brewery will prevail. Is it worth it?
The answer would seem to be yes. Empire Brewery has brewed the Maibock beer for seven years. It is one of the most popular amongst its patrons. Consumers identify "Strikes Bock" beer with Empire Brewery. It would be unfortunate for the brewery to have to re-name its lager after having established a goods/source association between its product and consumers.
The lesson to be learned for brewers, bar owners, distillers and the like is to choose a brand name carefully. A great deal of hours, sweat, and capital are invested in creating a product or establishing a business, which, in other words, is developing one's brand. Consumers quickly identify a product by its name and the goodwill accompanying it. One's name becomes valuable property worthy of protection; by registering a trademark, either on a state or federal level or both, others are prevented from exploiting the brand someone else has worked hard to create.
This is not to say that Empire did not choose its "Empire Strikes Bock" name wisely. It created a clever pun which is a memorable identifier for its product, and which consumers familiar with the brand instantly recognize as Empire Brewery's beer. Yet, the name "Empire Strikes Bock" presented a risk for Empire Brewery because Lucasfilm is an industrial titan with the resources to vigilantly protect and enforce its trademark rights. Lucasfilm, like many other large businesses that have diligently promoted their brands, will spare no expense to ensure that its trademarks do not risk being associated or confused with the goods or services of another. The smaller business owner who wishes to seek trademark protection of its name needs to be aware of this obstacle, and potentially great expense, of pursuing the trademark registration for a mark that is similar to that of a famous brand.
If you wish to obtain a retail or wholesale liquor license or require assistance of any kind with an existing license, the attorneys at Rudner & Paleudis, LLC are ready to assist you. Our attorneys are proficient in obtaining liquor licenses and handling all related matters before the New York State Liquor Authority. Additionally, our attorneys can also assist you with any of your intellectual property needs, from filing trademark applications to handling infringement matters through litigation or other appropriate means. To speak with a knowledgeable advocate about any of your needs, please contact the firm through our website or at (212) 949-0138 in New York City, (914) 220-8270 in White Plains, or (203) 355-3635 in Stamford, Connecticut.