Federal Circuit Rules on Claim Construction in Patent Infringement Case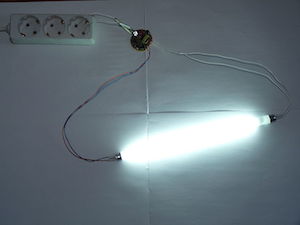 A patent application must clearly describe the type and extent of patent protection that the applicant is seeking. This description, which becomes part of the patent upon approval, is known as the "claim," and it requires very precise language. "Claim construction" is the process of interpreting the language used in a claim to determine the type and extent of the protection offered by a particular patent during litigation. The Federal Circuit has held that an appellate court may review a ruling on claim construction de novo, meaning that appellate courts do not have to defer to a district court's findings and may conduct their own claim construction inquiry. The court affirmed this principle recently in Lightning Ballast Control, LLC v. Philips Electronic North America Corp. , No. 2012-1014, slip op. (Fed. Cir., Feb. 21, 2014).
While some forms of writing seek to entertain, legal writing seeks, first and foremost to be open to as few interpretations as possible. Ambiguity or vagueness is not a desirable quality. In patent law, precision is critically important. The rights of the patent holder may depend on the wording of the claim, and disagreement over the meaning of a single word can lead to years of courtroom battles. The U.S. Supreme Court has held that claim construction is a question of law for courts to decide, rather than a question of fact for juries. Markman v. Westview Instruments, Inc. , 517 U.S. 370 (1996). The Federal Circuit has interpreted Markman to mean that appellate courts are not required to give deference to the trial court's findings. Cybor Corp. v. FAS Technologies, Inc. , 138 F.3d 1448 (Fed. Cir. 1998).
Lightning Ballast sued Universal Lighting Technologies and others, alleging that they infringed its patent on circuits used in fluorescent lighting. The patented technology involves an electronic ballast that regulates the high amount of electric current needed to turn on a fluorescent light. The defendant argued that a term used in the claim, "voltage source means," did not meet statutory specification requirements. An element in a claim may describe either a means of performing a function or a step in that function, but not both. 35 U.S.C. § 112. The defendant argued that "voltage source means" violated the restriction on having a means and a function within a single element.
The district court disagreed with the defendants, and after a trial, instructed the jury that "voltage source means" referred to a "rectifier" that converts AC to DC. The defendant appealed a final judgment in the plaintiff's favor. The Federal Circuit first ruled in January 2013, citing Cybor as authority for reviewing the district court's claim construction. It reversed the judgment, finding that the term in question was an invalid means-plus-function claim. After an en banc rehearing, the court ruled 6-4 to uphold the prior ruling, and upheld Cybor in the process.
The intellectual property attorneys at Korngut Paleudis LLC have represented clients in New York, New Jersey, and Connecticut for more than 45 years in business and commercial disputes. To speak with a knowledgeable advocate about your business law claim, please contact us today through our website or at (212) 949-0138 in New York City, (914) 220-8270 in White Plains, or (203) 355-3635 in Stamford, Connecticut.
More Articles:
$2.3 Million Patent Infringement Verdict Could Affect Online Businesses and Consumers in New York and Across the U.S., New York Business Litigation Lawyer Blog, December 13, 2013
Patent Infringement Award Could Affect Pharmaceutical Sales in New York and Across U.S., New York Business Litigation Lawyer Blog, December 6, 2013
Decision in Apple v. Samsung Patent Dispute May Make it More Difficult for Companies to Obtain a Permanent Injunction in New York and Nationwide, New York Business Litigation Lawyer Blog, November 21, 2013
Photo credit: By Dmitry G (Own work) [Public domain], via Wikimedia Commons.