Lawsuit Challenges "Happy Birthday to You" Copyright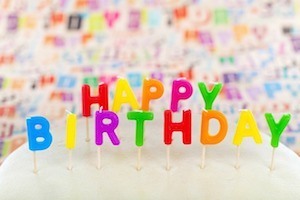 "Happy Birthday to You" is perhaps one of the most well-known songs in the English language, but using it anywhere other than a private birthday party could lead to severe legal liability. Warner/Chappell Music, a division of the Warner Music Group, claims copyright over the composition and lyrics, and it reportedly collects about $2 million per year in royalties and license fees for this song alone. The producers of a documentary film about the song are challenging Warner/Chappell in a lawsuit that claims that the song has been in the public domain for nearly 100 years. Marya, et al v. Warner Chappell Music, Inc., et al, No. 2:13-cv-04460, 4th am. complaint (C.D. Cal., Apr. 21, 2014). In addition to declaratory and injunctive relief, the lawsuit seeks repayment of licensing fees and royalties on behalf of a putative class of anyone who licensed the song from Warner/Chappell since April 2009.
While no definitive history of "Happy Birthday to You" exists, it appears to have first appeared with different lyrics in 1893, written by sisters Mildred and Patty Hill and published in a songbook under the title "Good Morning to All." According to the lawsuit, the publisher, Clayton F. Summy and his successor, the Clayton F. Summy Company ("Summy Co."), registered copyrights for books in which the manuscript of the song appeared in 1893, 1896, and 1899. It registered a copyright for the manuscript of the song itself in 1907.
At some point after 1900, the song acquired its familiar "birthday" lyrics, and unauthorized copies began appearing in songbooks across the English-speaking world. In 1935, the Hill's sister, acting on behalf of Patty, Mildred's estate, and a family trust, licensed the song. Multiple lawsuits ensued, throughout which Summy Co. and its successors claimed copyright over the song. Warner/Chappell acquired Summy Co.'s successor, Summy-Birchard Company, in 1998.
The plaintiffs are producing a documentary feature about the song, including a planned scene that features someone singing it. They asked for a quote for a synchronization license from Warner/Chappell, which would authorize the planned use of the song. Warner/Chappell informed them that a synchronization license would cost $1,500, and that unauthorized use would result in a statutory penalty of $150,000 per violation under federal copyright law. When the plaintiffs learned of disputes over Warner/Chappell's exclusive copyright ownership, they filed suit in June 2013.
Part of the plaintiffs' claims involve the allegation that a copyright registered in 1935 only covers the musical composition of the song, not the lyrics. The "birthday" lyrics may not be subject to any copyright, which would put them in the public domain. Furthermore, the plaintiffs have alleged that Summy failed to renew the copyright on the composition when it expired in 1921, which would put it in the public domain as well. The Fourth Amended Complaint alleges causes of action for declaratory and injunctive relief under federal law, state-law claims for false advertising and unfair business practices, and common-law claims for breach of contract and rescission.
If you are facing a copyright or other intellectual property dispute, Korngut Paleudis LLC can help you understand your rights and prepare your case. For over 45 years, our business and commercial attorneys have represented clients in New York, New Jersey, and Connecticut. To schedule a confidential consultation regarding your intellectual property or other business law claim, please contact us today through our website or at (212) 949-0138 in New York City, (914) 220-8270 in White Plains, or (203) 355-3635 in Stamford, Connecticut.
More Articles:
Led Zeppelin Accused of Stealing "Stairway to Heaven" Melody in Copyright Infringement Lawsuit, New York Business Litigation Lawyer Blog, August 4, 2014
Copyright Infringement Lawsuit Against Online Vendor Tests Limits of DMCA Safe Harbor Protection, New York Business Litigation Lawyer Blog, July 31, 2014
Law Professor and "Copyright Guru" Settles Lawsuit against Record Label Asserting Fair Use, New York Business Litigation Lawyer Blog, May 9, 2014
Photo credit: PublicDomainPictures [Public domain, CC0 1.0], via Pixabay.