Rights to Multiple Well-Known Typefaces at Issue in Dispute between Former Business Partners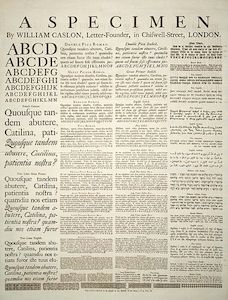 Two well-known New York City typeface designers are fighting in court over the business they allegedly shared for the past fifteen years. Frere-Jones v. Hoefler , No. 650139/2014, complaint (NY Sup. Ct., NY Co., Jan. 16, 2014). Their business has produced numerous recognizable typefaces, even if the world of typeface design remains rather obscure to most people. The lawsuit demonstrates the high potential value of typefaces, since the company holds the ownership rights to many well-known typefaces. This includes the right to receive ongoing income through licensing fees, and therefore makes many of those typefaces very valuable. The lawsuit brings these rights into dispute.
A "typeface," also commonly known as a "font" is a set of symbols with common design elements, including letters and numbers, used in both digital and regular publishing. Computers and many software applications typically have a set of available fonts, but a far greater variety is available to people and businesses who are willing to pay licensing fees. A designer or design firm usually retains ownership of a typeface, which is protected by copyright law. They may be able to derive ongoing income by charging licensing fees for specific uses of a typeface. A typeface's potential for generating such revenue is a strong indicator of its value.
The parties to the lawsuit, Tobias Frere-Jones and Jonathan Hoefler, are reportedly seen as superstars among typeface designers. Their business partnership, which they formed in 1999, has been compared to a musical supergroup. Both of them were already well-known among designers when Hoefler alleged invited Frere-Jones to join him in his business, The Hoefler Type Foundry (HTF). From 1999 until recently, HTF did business under the name Hoefler & Frere-Jones. The company created typefaces for the New York Jets and many other famous brands. Barack Obama's 2008 presidential campaign chose one of their fonts for its "Change" posters.
According to Frere-Jones, he and Hoefler agreed that he would receive fifty percent of the equity in HTF in exchange for assigning the rights to several fonts he had created to HTF, and contributing his knowledge of design, business goodwill, and reputation. The company operated for years without formal corporate structure, seemingly as a general partnership between the two. In March 2004, Frere-Jones signed an agreement formally assigning the fonts he had created to HTF, as promised. This gave HTF the right to license the fonts and to collect licensing fees and other income. Frere-Jones claims that the royalty value of the fonts at that time was about $3 million.
Hoefler allegedly never completed the transfer of equity to Frere-Jones. The two of them remained in business together for nine more years, and Hoefler allegedly always represented Frere-Jones as his business partner. Frere-Jones had left a job in Boston in 1999 to join Hoefler's business, and he claims that he was induced to do so by Hoefler's promise of equity in the company. The lawsuit, filed in January 2014, claims fraud and breach of contract, and seeks $20 million in damages.
The copyright infringement attorneys at Korngut Paleudis LLC can advise you of your rights and help prepare your case in your copyright or other intellectual property dispute. We have more than 45 years of experience representing clients in New York, New Jersey, and Connecticut. To speak with an experienced advocate about we may assist you with your intellectual property or other business law claim, please contact us today through our website or at (212) 949-0138 in New York City, (914) 220-8270 in White Plains, or (203) 355-3635 in Stamford, Connecticut.
More Articles:
Hyperlinking to Unrestricted, Copyrighted Material Online Is Not Infringement, According to European Court of Justice, New York Business Litigation Lawyer Blog, May 2, 2014
Supreme Court Reviews Question of What Constitutes an "Abstract Idea" in Patent Law, New York Business Litigation Lawyer Blog, April 11, 2014
Estate of James Dean Files Trademark Infringement Lawsuit Over Twitter Handle, New York Business Litigation Lawyer Blog, April 1, 2014
Photo credit: By William Caslon [Public domain], via Wikimedia Commons.