Supreme Court Rules in Copyright Infringement, False Advertising Dispute That Has Gone on for Twelve Years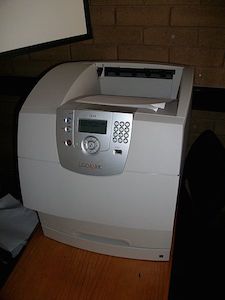 In a March 2014 ruling, the U.S. Supreme Court brought no closure to a copyright infringement and false advertising lawsuit that has persisted for 12 years and appeared twice before the Sixth Circuit Court of Appeals. The case began with a copyright infringement claim, followed by a countersuit for false advertising and false association under the Lanham Act. The Sixth Circuit ruled on the copyright claims in 2004, Lexmark Int'l, Inc. v. Static Control Components, Inc. (Lexmark I), 387 F.3d 522 (6th Cir. 2004), and subsequent court rulings have focused on the Lanham Act claims. The Supreme Court held that Static Control has standing under the Lanham Act, so the case will return to the district court. Lexmark Int'l, Inc. v. Static Control Components, Inc. (Lexmark II), No. 12-873, slip op. (Sup. Ct., Mar. 25, 2014).
The plaintiff, Lexmark, manufactures and sells laser printers and toner cartridges. The company designs its printers in such a way that they can only use Lexmark's own toner cartridges. Businesses known as "remanufacturers," however, also sell refurbished Lexmark toner cartridges. To maintain its market position, Lexmark began a "Prebate" program to encourage customers to return used cartridges directly to Lexmark. It also began installing microchips in every cartridge that disabled it when the toner ran out. Reactivating the cartridge required a new microchip.
The defendant, Static Control, manufactures and sells components used in the toner cartridge remanufacturing process. It developed a microchip that could mimic the ones manufactured by Lexmark and sold them to remanufacturers, which could then refurbish and sell used Lexmark toner cartridges. Lexmark, in the words of Justice Scalia, "did not take kindly to that development." Lexmark II, slip op. at 2. It filed suit against Static Control in 2002 under the Copyright Act of 1976, 17 U.S.C. § 101 et seq., and the Digital Millenium Copyright Act (DMCA), 17 U.S.C. § 1201 et seq., alleging that Static Control's microchip infringed on two copyrighted computer programs. Lexmark I, 387 F.3d at 529.
A U.S. district judge granted Lexmark a preliminary injunction barring sale of the microchips, but the Sixth Circuit vacated that order. To obtain a preliminary injunction, a party to litigation must demonstrate a likelihood of success on its claims. The Sixth Circuit disagreed with the district court on the likelihood of Lexmark's success on its copyright claims. It addressed the difference between ideas, which are not subject to copyright protection, and expressions of ideas, which are. Federal law limits copyright protection over computer programs when "a new copy or adaptation is…an essential step in the utilization of the program…" 17 U.S.C. § 117(a)(1). The court held that the district court abused its discretion in finding likelihood of success on the issue of copyrightability, and on Lexmark's DMCA claims. The case is still awaiting a final ruling on the issue.
If you are facing a copyright or other intellectual property dispute, the business and commercial attorneys at Korngut Paleudis LLC can help you understand your rights and prepare your case. We have represented clients in New York, New Jersey, and Connecticut for more than 45 years. To speak with a knowledgeable advocate regarding your intellectual property or other business law claim, please contact us today through our website or at (212) 949-0138 in New York City, (914) 220-8270 in White Plains, or (203) 355-3635 in Stamford, Connecticut.
More Articles:
Viacom, Google Settle Long-Running Copyright Infringement Lawsuit, New York Business Litigation Lawyer Blog, June 13, 2014
Rights to Multiple Well-Known Typefaces at Issue in Dispute between Former Business Partners, New York Business Litigation Lawyer Blog, May 16, 2014
Federal Circuit Rules that APIs Are Eligible for Copyright Protection in Oracle v. Google, New York Business Litigation Lawyer Blog, May 15, 2014
Photo credit: Bidgee [CC-BY-SA-3.0-au], via Wikimedia Commons.