Supreme Court Rules That Company Streaming Television Programs Online Was "Performing" Them in Violation of Copyright Law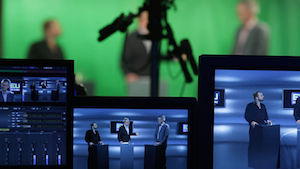 The legality of streaming content over the internet became murkier with the U.S. Supreme Court's ruling in American Broadcasting Companies, Inc. v. Aereo, Inc., 573 U.S. ___, No. 13-461 (Jun. 25, 2014). The court ruled in favor of the plaintiffs, copyright owners who claimed that Aereo's service violated federal copyright law. The court held that Aereo's practice of streaming television programs to individual users via the internet constituted a "public performance" of the work that infringed the plaintiffs' copyrights.
Aereo's service allowed subscribers to view television programs on their computers or other internet-connected devices almost at the same time as they were originally broadcast. The company maintained network equipment with thousands of small antennas in a central facility. When a user selected a program from Aereo's website, an antenna would tune to the broadcast, and the broadcast data would be converted to data that could be streamed over the internet to the user. Each antenna was dedicated to streaming content for one subscriber for as long as he or she was logged in.
A group of broadcasters, including the networks ABC, CBS, NBC, and Fox, filed suit against Aereo in federal court in New York City, claiming that the company's service violated their copyrights in any work that they streamed to their subscribers. A judge denied the plaintiffs' request for a preliminary injunction, citing the Second Circuit's ruling in the "Cablevision" case, Cartoon Network v. CSC Holdings, 536 F.3d 121 (2d Cir. 2008), which held that digital video recorders (DVRs) that record live television did not violate copyright law. That ruling cited the "Betamax" case, Sony Corp. v, Universal City Studios, 464 U.S. 417 (1984), in which the Supreme Court ruled that using a VCR to record a television show for later private viewing, or "time shifting," did not constitute copyright infringement.
Aereo's supporters argued that the company's service was similar to a VCR or DVR used for private time shifting of broadcast television. The Second Circuit affirmed the district court's denial of a preliminary injunction, also citing the Cablevision case. The plaintiffs appealed to the Supreme Court, which saw a different analogy for Aereo's service.
In its ruling, the Supreme Court noted that Aereo's service is similar to community antenna television (CATV), a predecessor to cable television that involved using coaxial cables to transmit television broadcasts, free of charge, to communities that were outside the range of broadcast signals. The Supreme Court held that CATV did not violate copyright law, as defined by the Copyright Act of 1909, finding that it did not constitute a "performance." Fortnightly Corp. v. United Artists Television, 392 U.S. 390 (1968); Teleprompter Corp. v. Columbia Broadcasting, 415 U.S. 394 (1974).
The Copyright Act of 1976 amended the definition of "perform," at least partly in response to these two decisions, to include showing "a motion picture or other audiovisual work…in any sequence or to make the sounds accompanying it audible." 17 U.S.C. § 101. This effectively overturned Fortnightly and Teleprompter. In the Aereo case, the court held that the company's service meets this definition of a "performance," which means it infringes the plaintiffs' copyrights.
The business and commercial attorneys at Korngut Paleudis LLC represent individuals and businesses in copyright disputes and other intellectual property matters in New York, New Jersey, and Connecticut. To speak with a knowledgeable and experienced advocate, please contact us today through our website, or at (212) 949-0138 in New York City, (914) 220-8270 in White Plains, or (203) 355-3635 in Stamford, Connecticut.
More Articles:
U.S. Copyright Office Most Likely Will Not Allow Photographer to Register "Monkey Selfie", New York Business Litigation Lawyer Blog, August 25, 2014
Copyright Infringement Lawsuit Against Online Vendor Tests Limits of DMCA Safe Harbor Protection, New York Business Litigation Lawyer Blog, July 31, 2014
Viacom, Google Settle Long-Running Copyright Infringement Lawsuit, New York Business Litigation Lawyer Blog, June 13, 2014
Photo credit: By Rehak (Own work) [CC-BY-3.0], via Wikimedia Commons.