Trademark of Common Mathematical Symbol Creates Controversy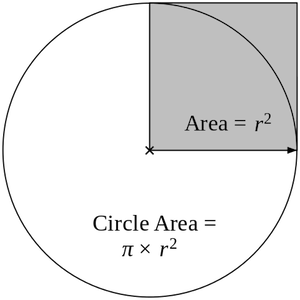 Trademark law generally protects names or symbols used in commerce, such as brand names and logos. The U.S. Patent and Trademark Office (USPTO) requires a person to identify specific classes of trademark protection, which limits trademark protection to certain areas of commerce. An artist based in Brooklyn, New York recently registered a trademark for a design consisting of the Greek letter Pi and a period ("π."). His efforts to enforce the trademark against a website that sells shirts bearing the same Greek letter, which is also a common mathematical symbol, have generated controversy over whether this is a proper use of trademark law.
On January 28, 2014, the USPTO issued registration number 4,473,631 to Paul Ingrisano for a mark described as "the pi mathematical symbol followed by a period." The trademark is classified in International Class 25, covering clothing, footwear, and headgear. The registration claims that the mark is used in "athletic apparel."
The Pi symbol is well-known to just about anyone who has taken a geometry class. It represents an irrational or transcendental number roughly equal to 3.14, which is the ratio of the circumference of a circle to its diameter. Mathematicians have calculated Pi to thousands of digits, but the number still retains considerable mystique. This is unlikely to change, despite legislative efforts to define Pi's value more simply.
Since Pi is a fundamental mathematical concept, the symbol is also popular among mathematics fans and others who might describe themselves as "geeks." A few months after registering the trademark, Ingrisano sent a cease and desist letter to Zazzle, which operates a website of the same name that sells t-shirts and other products bearing the Pi symbol. In addition to discontinuing all sales of allegedly infringing products, the letter demanded an accounting of the company's sales of allegedly infringing products, an inventory of products with the symbol, disclosure of any other uses of the symbol, the date when the company first used the symbol on its products, and any third parties who sell the company's products or link to its site.
Zazzle initially responded by disabling access to all products on its site that feature a Pi symbol. This reportedly included thousands of products. It restored the products to its website two days later after receiving a copious amount of complaints. Ingrisano has reportedly received considerable criticism for his actions, including death threats, but has stated that he still intends to protect the trademark. He has also reportedly <a href="http://www.nydailynews.com/new-york/brooklyn/brooklyn-artist-trademarks-3-article-1.1863816" title="Brooklyn 'Pi' artist strikes again with 'Itrademarked another symbol, "I<3," which is a shorthand used online for "I love," with "<3" representing a heart.
Prior cases do not offer much guidance as to how a court might rule regarding a trademark on the Pi symbol. A federal judge ruled that the number Pi is not eligible for copyright protection, citing the merger doctrine. Erickson v. Blake, No. 3:11-cv-01129, order at 7 (D. Ore., Mar. 14, 2012). A trademark lawsuit over the symbol commonly known as the "smiley," which ultimately ended in a confidential settlement, largely focused on questions of who first made use of the symbol in commerce, rather than who created the symbol. Loufrani v. Wal-Mart Stores, Inc., No. 1:09-cv-03062, mem. op. (N.D. Ill., Nov. 12, 2009).
If you are facing or are involved in a trademark infringement dispute in New York, New Jersey, or Connecticut, the intellectual property attorneys at Korngut Paleudis LLC can advise you of your rights and help you prepare your case. To speak with a knowledgeable advocate, please contact us today through our website or at (212) 949-0138 in New York City, (914) 220-8270 in White Plains, or (203) 355-3635 in Stamford, Connecticut.
More Articles:
Trademark Office, Others Object to Google's Application to Register "Glass" Part 2: The Opposition Proceedings, New York Business Litigation Lawyer Blog, April 25, 2014
Trademark Office, Others Object to Google's Application to Register "Glass" Part 1: The Trademark Office, New York Business Litigation Lawyer Blog, April 16, 2014
Estate of James Dean Files Trademark Infringement Lawsuit Over Twitter Handle, New York Business Litigation Lawyer Blog, April 1, 2014
Photo credit: Papeschr [Public domain], via Wikimedia Commons.