Court Dismisses $2 Billion Patent Infringement Lawsuit Against Apple Involving Mobile Network Technology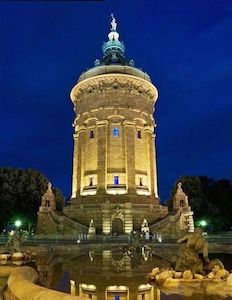 A court in Germany dismissed a patent infringement lawsuit claiming $2.2 billion in damages from Apple. The plaintiff, a so-called "patent troll," claimed that Apple infringed its patent on technology used in cellphone networks. Smartphone patents have been the subject of litigation all over the world, with giant companies like Apple, Motorola, and Samsung finding themselves on both sides of patent infringement claims. Smaller businesses who might have products used in cellphones or cellphone networks might find themselves caught in the crossfire of these disputes.
The German company IPCom GmbH sued Apple in a regional court located in Mannheim, Germany. This court, roughly the equivalent of a U.S. district court, has jurisdiction over patented products sold or marketed within its district, including over the internet. The court reportedly hears about one-fourth of all patents infringement lawsuits filed in the country, and is familiar to many people in the U.S. tech industry.
The lawsuit claims that Apple infringed IPCom's patent, registered with the European Patent Register, on technology used to assign access rights to channels within telecommunications networks. The technology is reportedly an essential component of 3G mobile networks. The lawsuit also claims infringement of a German-registered patent on technology that regulates access to wireless channels in order to prevent overloading.
The practice of "patent trolling" is controversial. A patent troll is a business or individual that, instead of owning patents on their own inventions, purchases patents from others and makes money through royalty lawsuits. From the point of view of a defendant, a patent troll generates excessive and possibly frivolous lawsuits, in part because litigation is their primary or only business activity. A patent owner, on the other hand, might see a such a company as a source of revenue for a patent that they do not have the resources or inclination to enforce.
The Wall Street Journal describes IPCom as a patent troll. The company purchased many of its patents from an auto parts company, Robert Bosch GmbH, which obtained patents for car phone technology but got out of the mobile telecommunications market once handheld phones overtook car phones. Defendants in lawsuits filed by IPCom in various European countries have sought to invalidate many of these patents.
The Mannheim court dismissed the lawsuit against Apple in late February. An IPCom executive expressed surprise at the ruling, noting that the same court had ruled in the company's favor in other lawsuits involving the same patent. The court did not give any reasons for the ruling, but it is worth noting that Apple had argued that the wording of the patent rendered it invalid. The description in the patent reportedly states that the technology sends a single bit of information, the smallest possible amount of digital information, to the network to identify a device. Apple noted in court that the 3G standard requires three bits, not one, to provide identification.
If you are facing an intellectual property dispute, Korngut Paleudis LLC' business and commercial attorneys can help you understand your rights and prepare your case. For more than 45 years, we have represented clients in New York, New Jersey, and Connecticut. To speak with a knowledgeable and experienced advocate regarding your intellectual property or other business law claim, please contact us today through our website or at (212) 949-0138 in New York City, (914) 220-8270 in White Plains, or (203) 355-3635 in Stamford, Connecticut.
More Articles:
$2.3 Million Patent Infringement Verdict Could Affect Online Businesses and Consumers in New York and Across the U.S., New York Business Litigation Lawyer Blog, December 13, 2013
Patent Infringement Award Could Affect Pharmaceutical Sales in New York and Across U.S., New York Business Litigation Lawyer Blog, December 6, 2013
Decision in Apple v. Samsung Patent Dispute May Make it More Difficult for Companies to Obtain a Permanent Injunction in New York and Nationwide, New York Business Litigation Lawyer Blog, November 21, 2013
Photo credit: By Robert Gaadt ( http://www.piqs.de/fotos/48452.html ) [ CC-BY-2.0-de ], via Wikimedia Commons.