Estate of James Dean Files Trademark Infringement Lawsuit Over Twitter Handle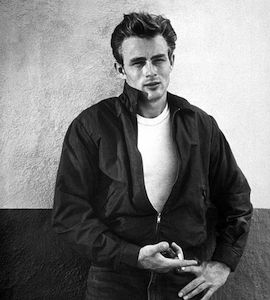 A lawsuit against the social networking site Twitter and one or more users by the estate of the actor James Dean (1931-1955) alleges infringement of trademark and likeness rights. James Dean, Inc., et al v. Twitter, Inc., et al , No. 1:14-cv-00183, notice of removal (S.D. Ind., Feb. 7, 2014) ; originally filed as No. 29D01-1213-CC-12060, complaint (Ind. Super. Ct., Hamilton Co., Dec. 31, 2013). At issue is the creation of a Twitter account using the actor's name, "@JamesDean." The use of trademarks in internet domain names without permission has become known as "cybersquatting." Our legal system is gradually developing means for trademark owners to enforce their rights. This lawsuit could expand rights against cybersquatting beyond domain names to include social media accounts.
Twitter is a social networking and "microblogging" service that allows users to post text messages of no more than 140 characters, known as "tweets," to the internet. A user's account name is known as their "handle." Businesses often create Twitter accounts using their business name, or one or more brand names, in order to promote products or services and interact with consumers. These accounts have the potential to reach thousands or millions of other users. The company reported having 241 million monthly users in February 2014. As a result, Twitter accounts and their handles have acquired substantial pecuniary value for some trademark owners.
The plaintiff is an Indiana corporation that owns the likeness rights and other intellectual property related to the late actor James Dean. It is represented by a licensing agency, CMG Worldwide, Inc., which handles the intellectual property rights on behalf of the estates of numerous deceased celebrities. CMG also enforces these rights against alleged infringement. For example, it recently engaged in litigation regarding the rights to the use of Marilyn Monroe's name and likeness. See CMG v. MM-ABG, LLC, No. 1:11-cv-00719 (S.D. Ind.); CMG v. Estate of Marilyn Monroe, No. 1:12-cv-02058 (S.D.N.Y.).
In the present case, the plaintiff alleges that Twitter allowed a user to create an account with the handle "@JamesDean" during or prior to September 2012 without express or implied permission to do so. Twitter has an "impersonation policy" that prohibits users from "portraying another person in a confusing or deceptive manner." Since James Dean is deceased, it is not necessarily clear whether this policy applies.
The plaintiff claims in its complaint that it made multiple attempts to request removal of the "@JamesDean" account by Twitter prior to filing suit. The lawsuit alleges trademark infringement under §§ 32(1) and 43(A) of the Lanham Act, 15 U.S.C. §§ 1114(1), 1125(a); and false endorsement under § 43(A). It also claims violations of the right of publicity under both Indiana and common law, unfair competition, and unjust enrichment.
If you are involved in an intellectual property dispute, such as a claim of copyright or trademark infringement, please contact the intellectual property attorneys at Korngut Paleudis LLC. We have represented clients in New York, New Jersey, and Connecticut for more than 45 years. To speak with a knowledgeable advocate about we may help you with your intellectual property or other business law claim, please contact us today through our website or at (212) 949-0138 in New York City, (914) 220-8270 in White Plains, or (203) 355-3635 in Stamford, Connecticut.
More Articles:
Federal Appellate Court Rules that Purchase of Trademarks as Internet Search Terms Constituted False Advertising and Unfair Competition, New York Business Litigation Lawyer Blog, February 7, 2014
New York Court Gives Trademark Owners Powerful Tools Against Counterfeiters and Cybersquatters, New York Business Litigation Lawyer Blog, January 24, 2014
Cracker Barrel Trademark Dispute Will Keep Restaurant Chain's Products Off of Grocery Shelves in New Jersey and Elsewhere for Now, New York Business Litigation Lawyer Blog, November 29, 2013
Photo credit: In-house publicity still [Public domain], via Wikimedia Commons.