Law Professor and "Copyright Guru" Settles Lawsuit against Record Label Asserting Fair Use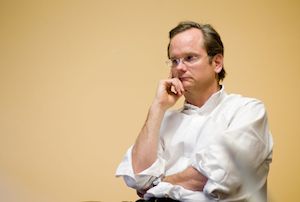 Lawrence Lessig, a professor at Harvard Law School, recently settled a lawsuit he filed against a record company regarding alleged copyright infringement. Lessig v. Liberation Music Pty. Ltd., No. 1:13-cv-12028, complaint (D. Mass., Aug. 22, 2013). Lessig sought a declaratory judgment from the court holding that his use of a song in a lecture uploaded to YouTube was permitted by the Fair Use Doctrine, which allows the use of copyrighted materials without permission under certain circumstances, including education. The parties reached a settlement in February 2014, and the record company has agreed to change its policies regarding how it responds to suspected infringement.
In addition to his role as a law professor, Lessig is known as an advocate against overuse and abuse of "takedown notices" under the Digital Millenium Copyright Act (DMCA), which allow copyright owners to compel removal of infringing materials from the internet. He is also a co-founder of Creative Commons, a nonprofit that provides legal licenses allowing free use of photographs and other creative works on the internet. Lessig gave a lecture at the Creative Commons conference in Seoul, South Korea on June 4, 2010, which included video clips of people dancing to the song "Lisztomania" by Phoenix. Lessig posted a video of the lecture, which included the video clips, to YouTube in June 2013.
Title II of the DMCA, 17 U.S.C. § 512, provides "safe harbor" protections to online service providers that host infringing materials. To have the material removed, a copyright owner must submit a written takedown notice to the provider stating that the owner has a "good faith belief" that use of the material is not authorized. Id. at § 512(c)(3)(A)(v). An Australian record company, Liberation Music, owns the copyright to "Lisztomania." It sent a DMCA takedown notice to YouTube in late June 2013, resulting in the removal of the video.
Lessig submitted a counter-notice disputing Liberation's claims. The DMCA allows a user who is the subject of a takedown notice to file suit against the sender of the takedown notice if it contained material misrepresentations. Id. at § 512(f). Lessig filed suit against Liberation in August, seeking a declaratory judgment and asserting a cause of action under § 512(f). He asked the court to declare that his use of "Lisztomania" was lawful under the Fair Use doctrine and did not infringe Liberation's copyright. He alleged that Liberation knew or should have known that his use of the song was covered by Fair Use, and that it sent the DMCA takedown notice in bad faith.
In the course of litigation, it became clear that an automated application, known as a "bot," flagged Lessig's video and triggered the the takedown notice to YouTube. The bot searches YouTube videos and flags anything with audio matching material in Liberation's music catalogue with little to no human input. As part of the settlement, Liberation agreed to work with Lessig to develop new policies for issuing takedown notices. The company also acknowledged that his use of the song was covered by Fair Use.
If you are facing a copyright dispute, or another other intellectual property matter in New York, New Jersey, or Connecticut, you should consult with the business and commercial attorneys at Korngut Paleudis LLC. To speak with a knowledgeable advocate regarding your case, please contact us today through our website or at (212) 949-0138 in New York City, (914) 220-8270 in White Plains, or (203) 355-3635 in Stamford, Connecticut.
More Articles:
Actress in Copyright Dispute with Google Obtains Preliminary Injunction Requiring Removal of Video from YouTube, New York Business Litigation Lawyer Blog, March 14, 2014
Courts Reach Varying Conclusions in "BitTorrent Swarm" Copyright Infringement Lawsuits, New York Business Litigation Lawyer Blog, February 26, 2014
Court Allows Copyright Infringement Lawsuit to Proceed Against Individual Corporate Officers, New York Business Litigation Lawyer Blog, January 31, 2014
Photo credit: By Joi Ito from Inbamura, Japan (Lawrence Lessig) [CC-BY-2.0], via Wikimedia Commons.