Led Zeppelin Accused of Stealing "Stairway to Heaven" Melody in Copyright Infringement Lawsuit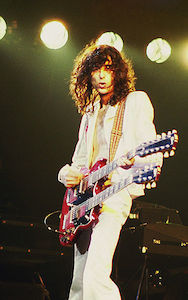 The estate of a guitar player, whose band played with the legendary rock band Led Zeppelin in the late 1960s, has filed a copyright infringement lawsuit against the surviving members of the band, their publisher, and their record label, alleging that the band stole the guitar line and melody from the plaintiff for their song "Stairway to Heaven." Skidmore, et al v. Led Zeppelin, et al, No. 2:14-cv-03089, complaint (E.D. Pa., May 31, 2014). The plaintiff cites multiple prior lawsuits and other claims of alleged copyright infringement against the band, involving other famous songs, in support of the infringement claims. The lawsuit also asserts a cause of action for "Falsification of Rock n' Roll History." Id. at 26.
According to Led Zeppelin's account of how "Stairway to Heaven" came into being, guitarist Jimmy Page wrote the song's intro, which is now one of the world's most recognizable finger-picked melodies, during a break from touring in 1970 at an old cottage in Wales. That winter, he and vocalist Robert Plant continued to put the song together, with Page composing the music and Plant writing the lyrics. The band began recording the song in December 1970 and completed it several months later. The eight-minute, two-second song was released on their fourth album, Led Zeppelin IV, in November 1971.
The lawsuit, filed on behalf of a trust that handles music royalties for the Estate of Randy Craig Wolfe, tells a different story. Wolfe, who used the stage name Randy California, was a founding member of a Los Angeles-based band called Spirit, which "pioneered the psychedelic sound." Id. at 2. A self-titled album released by the band in January 1968 included "Taurus," a two-minute, thirty-seven-second instrumental with a "distinct-plucked guitar line and melody." Id. The lawsuit claims that Led Zeppelin began touring the U.S. in late 1968, opened for Spirit in multiple shows, and performed covers of Spirit's songs. Page allegedly copied the melody from "Taurus," as well as Spirit's use of "audio-enhancing effects" in their music. Id.
The plaintiff's complaint provides a "partial list" of accusations against Led Zeppelin of copyright infringement or failure to give credit for songs. Id. at 4. The 17 claims on the list include the plaintiff's own claim and a claim by Jake Holmes, a folk singer who accused the band of using elements of his 1967 song "Dazed and Confused" on a track of the same name on its debut album in 1969. Holmes, v. Page, et al, No. 2:10-cv-04789, complaint (C.D. Cal., Jun. 28, 2010). The parties settled the lawsuit, which was dismissed in January 2012.
In addition to claims for direct, contributory, and vicarious copyright infringement, the plaintiff is asserting an equitable claim for the right of attribution, alleging that Led Zeppelin has failed to include Wolfe in the writing credits for "Stairway to Heaven." The court should issue a permanent injunction, the complaint states, requiring the defendants and the Copyright Office to credit Wolfe as a writer of the song. See eBay, Inc. v. MercExchange, 547 U.S. 388, 391 (2006).
If you are facing a dispute in New York, New Jersey, or Connecticut over copyright or some other intellectual property matter, the business and commercial attorneys at Korngut Paleudis LLC can help you understand your rights and advocate for your interests. To speak with a knowledgeable advocate regarding your case, please contact us today through our website or at (212) 949-0138 in New York City, (914) 220-8270 in White Plains, or (203) 355-3635 in Stamford, Connecticut.
More Articles:
Court Rules in Copyright Infringement Lawsuit that 43-Year-Old Publishing Contract Includes E-Book Rights, New York Business Litigation Lawyer Blog, June 27, 2014
Viacom, Google Settle Long-Running Copyright Infringement Lawsuit, New York Business Litigation Lawyer Blog, June 13, 2014
Law Professor and "Copyright Guru" Settles Lawsuit against Record Label Asserting Fair Use, New York Business Litigation Lawyer Blog, May 9, 2014
Photo credit: By Jim Summaria, http://www.jimsummariaphoto.com/ (Wikipedia:Contact us/Photo submission) [CC-BY-SA-3.0], via Wikimedia Commons.