The Rise of 3D Printing Presents New Intellectual Property Challenges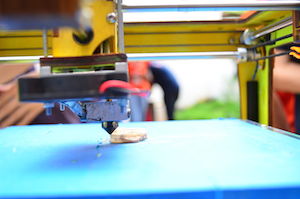 Three-dimensional printing, or 3D printing, is a relatively new technology that could have a significant effect on manufacturing around the world. This brings up numerous possible intellectual property issues, a few of which are already making their way through the courts. How can patent and copyright owners protect their intellectual property, for example, if the information needed to produce replicas of their designs on a 3D printer are easily available? Counterfeit goods could become even easier to make with 3D printers, which brings up issues of trademark law as well. As 3D printing technology becomes more accessible, these issues are likely to become more prominent in courts around the country.
The production of goods has long required enormous investments in equipment, materials, and work space. 3D printing allows small businesses and consumers, to the extent the technology will allow, to produce items themselves rather than rely on manufacturers and suppliers. The 3D printer itself may use plastics, metals, ceramics, or other materials to fabricate an object using designs created with computer-aided design (CAD) software. A designer can create CAD files from scratch, or use a laser scanner to make a CAD model of an existing object. While sophisticated 3D printers might cost hundreds of thousands of dollars, companies like MakerBot have recently introduced 3D printers and laser scanners priced for consumers.
Multiple websites allow users to post, download, and exchange CAD files, which can then be used with 3D printers. This raises the possibility of patent infringement, such as if someone were to post CAD files containing the information needed to reproduce a patented device. The technology of 3D printing itself is currently the subject of several patent infringement lawsuits. See Stratasys v. Microboards Technology d/b/a Afinia, No. 0:13-cv-03228, complaint (D. Minn., Nov. 25, 2013); Leseman v. Stratasys, No. 0:14-cv-00363, complaint (D. Minn., Feb. 10, 2014). It is perhaps inevitable that a patent owner will allege infringement based on one or more 3D-printed products.
Copyright law also plays a role in 3D printing, as copyright owners have already asserted claims against individuals and businesses offering 3D-printed products for sale. The cable network HBO, for example, sent a cease-and-desist letter last year to an individual who was selling iPhone docks, created on a 3D printer, in the shape of the Iron Throne from the show Game of Thrones. The person had created the design himself using CAD software, claiming that it took months to complete. HBO contended, however, that it owns all of the rights to the show, including the designs associated with it.
This form of copyright protection is not unlimited, as the Ninth Circuit showed in Inhale v. Starbuzz Tobacco, No. 12-56331, slip op. (9th Cir., Jan. 9, 2014). The case involved a dispute over a hookah, a device used to smoke tobacco that filters the smoke through water. The court held that the shape of the water container was not subject to copyright protection because "the shape is not independent of the container's utilitarian function." Id. at 7. Copyright claims involving 3D-printed items, therefore, may need to show more than just similar shapes.
The intellectual property attorneys at Korngut Paleudis LLC have represented businesses and business owners in New York, New Jersey, and Connecticut for more than 45 years. To speak with a knowledgeable and experienced advocate about your business or commercial law matter, please contact us today through our website or at (212) 949-0138 in New York City, (914) 220-8270 in White Plains, or (203) 355-3635 in Stamford, Connecticut.
More Articles:
Federal Circuit Affirms Denial of Patent on Dolly, the Cloned Sheep, New York Business Litigation Lawyer Blog, July 24, 2014
Rights to Multiple Well-Known Typefaces at Issue in Dispute between Former Business Partners, New York Business Litigation Lawyer Blog, May 16, 2014
Supreme Court Reviews Question of What Constitutes an "Abstract Idea" in Patent Law, New York Business Litigation Lawyer Blog, April 11, 2014
Photo credit: By Subhashish Panigrahi (Own work) [CC-BY-SA-3.0], via Wikimedia Commons.