Trademark Office, Others Object to Google's Application to Register "Glass" Part 1: The Trademark Office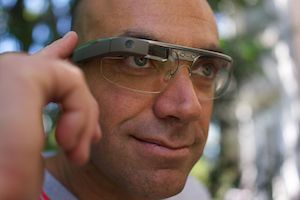 Google first announced "Project Glass," which is essentially a smartphone contained in a device worn like eyeglasses, in 2012, and it first became available to consumers in 2013. The company successfully registered "Google Glass" with the U.S. Patent and Trademark Office (USPTO) in 2013, but it has encountered difficulties in its application for the the word "Glass." An examiner with the USPTO made several objections to the application, giving Google an opportunity to amend its application. Two companies with registered marks considered similar to Google's mark also filed notices of opposition with the USPTO.
"Google Glass" is registered with the USPTO under serial number 85/723,835, in the categories for computer hardware and peripherals, and online non-downloadable software. Google filed a trademark application for "GLASS," using what it describes as a "stylized form," on July 11, 2013. It filed solely in the category of computer hardware and peripherals. The USPTO assigned the serial number 86/008,139.
In an office action dated September 18, 2013, the USPTO raised two objections to registration of the mark. First, it cited the "likelihood of confusion" with several registered marks, which precludes registration under the Trademark Act § 2(d), 15 U.S.C. § 1052(d). The USPTO looks for registered marks that similar in "appearance, sound, connotation, and commercial impression." In re Viterra, 671 F.3d 1358, 1362 (Fed. Cir. 2012). It also considers whether a mark's goods or services are related to those of an existing mark in a way that could reasonably lead "to the mistaken belief that [they] emanate from the same source." Coach Services, Inc. v. Triumph Learning LLC, 668 F.3d 1356, 1369 (Fed. Cir. 2012). The USPTO claimed that the existing marks GLASS, WRITE ON GLASS, GLASS3D, and TELEGLASS, along with several registered marks for "wearable computer peripherals" and the like, fit these criteria.
The USPTO's second objection claims that the mark is "merely descriptive," and therefore not eligible for registration under § 2(e)(1) of the Trademark Act, 15 U.S.C. § 1052(e)(1). A mark is "merely descriptive" if it only describes "qualities, ingredients or characteristics" of the goods or services. Estate of P.D. Beckwith v. Comm'r of Patents, 252 U.S. 538, 543 (1920). Here, the USPTO concluded that "glass" could describe any device with a display screen or lenses.
The Trademark Act allows an applicant six months to respond to a non-final refusal by the USPTO. 15 U.S.C. § 1062(b), 37 C.F.R. § 2.62. This process may repeat until the USPTO issues a final refusal of the registration, or the applicant fails to respond within the six-month period. 37 C.F.R. § 2.65(a). After the USPTO issued its refusal notice in September 2013, the registrants of two marks cited by the USPTO as having a likelihood of confusion with Google's mark filed oppositions to registration. Google responded by petitioning to cancel their registrations, and the matter now awaits adjudication.
If you are involved in a copyright or trademark infringement claim, or another sort of intellectual property dispute, the intellectual property attorneys at Korngut Paleudis LLC can help you understand your right and prepare your case. We have represented clients in New York, New Jersey, and Connecticut for more than 45 years. To schedule a confidential consultation with a knowledgeable intellectual property and business law advocate, please contact us today online or at (212) 949-0138 in New York City, (914) 220-8270 in White Plains, or (203) 355-3635 in Stamford, Connecticut.
More Articles:
Estate of James Dean Files Trademark Infringement Lawsuit Over Twitter Handle, New York Business Litigation Lawyer Blog, April 1, 2014
Federal Appellate Court Rules that Purchase of Trademarks as Internet Search Terms Constituted False Advertising and Unfair Competition, New York Business Litigation Lawyer Blog, February 7, 2014
New York Court Gives Trademark Owners Powerful Tools Against Counterfeiters and Cybersquatters, New York Business Litigation Lawyer Blog, January 24, 2014
Photo credit: By Loic Le Meur [CC BY 2.0], via Wikimedia Commons.