Trademark Office, Others Object to Google's Application to Register "Glass" Part 2: The Opposition Proceedings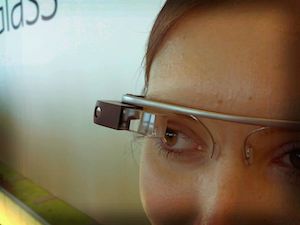 Google released a mobile device that users can wear like a pair of eyeglasses, known as Google Glass, in 2013, but it is having difficulty registering trademarks with the U.S. Patent and Trademark Office (USPTO). The service mark "Google Glass" was published for opposition by the USPTO in 2013, but an application to register the word "Glass" has met with objections from a USPTO examiner. Two businesses have filed notices of opposition, claiming similarities to their own marks. Google, in turn, filed petitions to cancel the opposers' marks.
The USPTO published Google's service mark "Google Glass" for opposition in June 2013, under serial number 85/723,835. Google applied to register the word "GLASS" with a logo in July 2013. The USPTO assigned serial number 86/008,139. In both applications, Google claimed International Class 9, computer hardware and peripherals. It also registered "Google Glass" in International Class 42, non-downloadable software used to operate hardware and peripherals. The USPTO objected to the the "GLASS" application, claiming "likelihood of confusion" with existing marks and that the mark is "merely descriptive." 15 U.S.C. §§ 1052(d), (e)(1).
Two companies filed oppositions to the "Google Glass" registration. 15 U.S.C. § 1063. They both specifically cite the mark "Glass," registration number 3,797,151, as the basis for their objections. Factory Holding Company 25, S.L., which is based in Madrid, Spain, has three marks registered with the USPTO: G GLASS, GLASS EYE, and GLASS PAY. Factory Holding Co. v. Google, No. 91214017, notice of opp. (TTAB, Dec. 16, 2013). It claims a fourth mark, GLASS, by assignment recorded with the USPTO. The marks are registered in several International Classes, including 9 and 42, relating to computer hardware and software applications.
California-based Border Stylo, LLC claims two registered marks, GLASS and WRITE ON GLASS. Border Stylo v. Google, No. 91214020, notice of opp. (TTAB, Dec. 16, 2013). This includes the GLASS mark claimed by Factory Holding. Both marks are registered in International Class 9. Factory Holdings and Border Stylo each argue that the USPTO should deny the registration of "Google Glass" on "likelihood of confusion" grounds.
Google filed petitions to cancel the GLASS and WRITE ON GLASS marks. Google v. Factory Holding Co., No. 92058784, pet. to cancel (TTAB, Mar. 4, 2014); Google v. Border Stylo, No. 92058815, pet. to cancel (TTAB, Mar. 6, 2014). A party may petition to cancel a registered mark for cause. 15 U.S.C. § 1064. Google alleges that Border Stylo ceased using either mark in December 2011 without intending to use them again, transferred its interest in GLASS to Factory Holding in December 2012, and later attempted to retract the transfer. It claims that Border Stylo abandoned both marks, and that the transfer to Factory Holdings was invalid because it took place more than a year after the abandonment. It is therefore asking the USPTO to cancel both registrations.
The intellectual property attorneys at Korngut Paleudis LLC have represented clients in New York, New Jersey, and Connecticut for more than 45 years, advocating for their rights in copyright and trademark infringement disputes and other business matters. To schedule a confidential consultation with an experienced and knowledgeable business law advocate, please contact us today through our website or at (212) 949-0138 in New York City, (914) 220-8270 in White Plains, or (203) 355-3635 in Stamford, Connecticut.
More Articles:
New York Court Gives Trademark Owners Powerful Tools Against Counterfeiters and Cybersquatters, New York Business Litigation Lawyer Blog, January 24, 2014
Cracker Barrel Trademark Dispute Will Keep Restaurant Chain's Products Off of Grocery Shelves in New Jersey and Elsewhere for Now, New York Business Litigation Lawyer Blog, November 29, 2013
Distinctive Nature of Trademarks in New York and Elsewhere Highlighted by Chanel's Failed Attempt to Patent the Word 'Jersey', New York Business Litigation Lawyer Blog, October 17, 2013
Photo credit: By Antonio Zugaldia [ GFDL or CC-BY-3.0 ], via Wikimedia Commons.