U.S. Trademark Office Cancels Registration for Washington DC Football Team on Grounds of Disparagement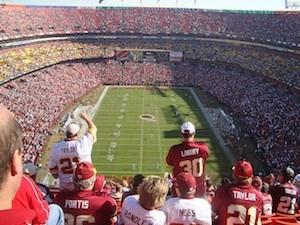 The National Football League (NFL) team in Washington, DC has faced controversy and criticism over its team nickname, the "Redskins," for decades, with critics arguing that the name is a racial slur against Native Americans. A group of young Native Americans petitioned the Trademark Trial and Appeal Board (TTAB) to cancel the registration of six trademarks, citing federal laws prohibiting registration of marks that are disparaging to a group of people. The TTAB granted the petition, finding that the team name is a racial slur, that its common usage is disparaging, and that a substantial number of Native Americans found the term to be disparaging during the time period when the marks were registered. Blackhorse, et al v. Pro-Football, Inc., Cancellation No. 92046185, opinion (TTAB, Jun. 18, 2014).
The Washington Redskins football team was established in Boston in 1932 as the Boston Braves. The name was changed to the Boston Redskins the following year, and the team moved to Washington, DC in 1937. The team's nickname has drawn criticism for a substantial part of the team's history. A 1972 editorial in the Washington Daily News is one of the earliest known public calls to change the name.
The current legal proceeding followed an unsuccessful petition filed in 1992, when American Indian activist Suzan Harjo petitioned for cancellation. The TTAB granted the petition in 1999, but the ruling was reversed on appeal. The appellate court held, in part, that the petitioners' claims were barred by the doctrine of laches, which disallows equitable claims after an unreasonable delay by a petitioner.
Federal trademark law establishes a statute of limitations for most cancellation petitions, but it allows petitions to cancel allegedly wrongful registrations "at any time." 15 U.S.C. § 1064(3). A wrongful registration includes one that "may disparage…persons,…or bring them into contempt, or disrepute." 15 U.S.C. § 1052(a). The TTAB, however, may consider equitable doctrines like laches. 15 U.S.C. § 1069. In Harjo's case, the court held that all but one of the petitioners waited too long to file after reaching the age of majority. Pro-Football, Inc. v. Harjo, 415 F.3d 44 (D.C. Cir. 2005).
After the D.C. Circuit's ruling, five petitioners, all of whom had recently reached the age of majority, filed the current case with the TTAB. Their claims were very similar to those in Harjo. The six trademarks, they claimed, violated § 1052(a), also known as Section 2(a) of the Lanham Act, by "disparag[ing] Native American persons, and bring[ing] them into contempt, ridicule, and disrepute." Blackhorse, petition at 4 (TTAB, Aug. 11, 2006).
The TTAB rejected the respondent's laches argument in the Blackhorse case, finding that the petitioners all turned 18 between 2000 and 2005, while the Harjo case was still pending. It held that a delay in filing was excusable at least until the district court's final ruling in Harjo in June 2008. Blackhorse, opinion at 79. It further found that the petitioners had met their burden of proof to show, by a preponderance of evidence, that "a substantial composite of Native Americans found the term REDSKINS to be disparaging in connection with respondent's services during the relevant time frame of 1967-1990." Id. at 72.
The intellectual property attorneys at Korngut Paleudis LLC represent clients in New York, New Jersey, and Connecticut in trademark disputes and other intellectual property matters. To speak with a knowledgeable and experienced advocate, please contact us today through our website or at (212) 949-0138 in New York City, (914) 220-8270 in White Plains, or (203) 355-3635 in Stamford, Connecticut.
More Articles:
Trademark of Common Mathematical Symbol Creates Controversy, New York Business Litigation Lawyer Blog, August 11, 2014
Use of DMCA Takedown Notice for Alleged Trademark Infringement Could Result in Liability for Misrepresentation by Trademark Owner, New York Business Litigation Lawyer Blog, July 17, 2014
Estate of James Dean Files Trademark Infringement Lawsuit Over Twitter Handle, New York Business Litigation Lawyer Blog, April 1, 2014
Photo credit: GoonSquadSarah [CC BY-ND 2.0], via Flickr.